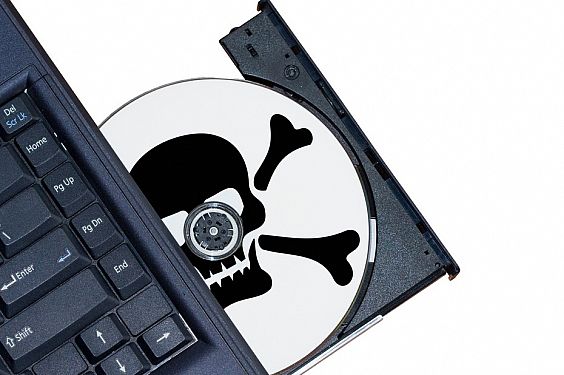 In this post we wanted to touch briefly on the advantages of using a StorDigital SafeTower for duplicating DVD Video discs. StorDigital duplicators are widely recognised as the best duplicators in the industry for producing large volumes of CD, DVD and Blu-Ray. One of the reasons they are so successful is because they are both reliable and feature packed. One feature that is much sought after is our DVD copy protection function available in the StorDigital SafeTower model. Using the industry leading copy protection software, Patronus from 'Fortium Technologies' the StorDigital SafeTower has the ability to quickly and easily protect your DVD Video titles from unauthorised copying.
Applying DVD Video copy protection via the SafeTower both protects your content and boosts long term revenues from subsequent sales.
To protect your DVD Videos from unauthorised duplication just follow these steps:
01 Take your DVD Video and place into the drive on your computer
02 Open the "Imgburn" software, and convert your DVD into a ISO file on your PC
03 Open the "Copylock" software. Select the ISO you just created as the source file, and type a filename for the destination file your destination file will be called a VCP file.
04 Once the process is complete, transfer the VCP file to the Hard drive of your duplicator, using the supplied USB cable.
NOTE* To enable or disable the USB on your duplicator, select "Setup" from the duplicator Menu, then turn the "External Connection" on or off. The external connection must be "on" to transfer VCP files from your computer to the duplicator hard drive, and must be turned off when you are ready to burn your new copy protected DVD Videos through your duplicator.
Patronus DVD Video copy protection is very cost effective when making larger volumes of discs due to the fact that you only pay to protect the master disc. This means every copy you make is protected, but without incurring any extra costs.
It's as simple as that.
In tests at CD-writer.com HQ we have found the DVD Video discs very diffcult to copy with all the mainstream DVD ripping solutions. Customers should note that the SafeTower software can easily be updated to offer ongoing protection.

Fortium's DVD Anti Rip Copy Protection technology "Patronus" is designed with reliable levels of protection from mass market ripping programs. Patronus provides effective speed bump protection from unauthorised casual copying. Patronus software is regularly tested against new and upgraded ripping programs.
Since its launch Patronus has gained considerable traction across all geographies of the world.
Major US based film studios, content owners and duplicating service providers have found the high level of copy protection and easy of use key factors in their adoption of Patronus. Patronus today is helping our global partners secure their video content so helping to prevent the organised ripping and exploitation of their content, thus protecting their revenues and brands which is fundamental in the competitive video production world. From Videographers to the largest Film Studios Patronus is delivering results.
Patronus DVD video anti rip copy protection solution helps content owners sell more discs by reliably preventing unauthorized copying from common ripping programs without affecting playback. Patronus is widely used by videographers and the major film studios for protecting screener DVDs.
It introduces copy control encapsulation in areas of the disc not read by DVD players during playback. Complying with the DVD standard, the original content is not modified and play-back quality remains unaffected. Patronus effectively controls access to the content by common ripping programs and provides effective, speed bump protection from unauthorised copying.
Complex content – including menus, special features, extras and even dual layers – are protected by the passive technology of Patronus, which ensures no changes are made to the original video files during analysis. Patronus provides an ideal solution for consumer 'download-to-own' and in-store 'on demand' manufacturing.
Patronus is a passive anti-rip solution that encapsulates image files on a DVD disc causing access to the content by common ripping programs to be controlled. The original media content is not modified and play-back quality remains unaffected. This is achieved by introducing copy control encapsulation in areas of the disc that are not read by DVD players during playback. Copy controlled discs are designed to provide effective speed bump protection from unauthorised casual copying. Copy controlled discs have full DVD player playability matching that of unprotected DVDRs. Menus, special features and extras are unaffected and remain as the original.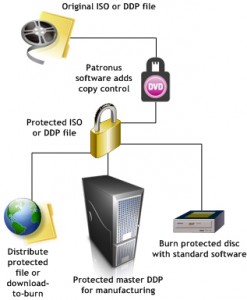 How do I apply Patronus to DVDs?
Copy control is applied through our proprietary Patronus software authoring program which adds protection to the ISO or DDP image file prior to burning. Once protected the ISO files can be processed in the normal way for PC playback, duplicating DVDs or for mastering and manufacturing. Content that is protected in this way can be burnt to disc using any standard burn engine.
How reliable is it?
The high level of copy protection, playability and simplicity of its use are key factors in the continued success of Patronus. Whereas NO copy protection solution can be guaranteed to be 100% un-rippable , Patronus provides a significant 'speed bump' in any attempt to rip and copy video content and hence has been adopted by leading content owners across the world. Independent testing has shown both a significant level of copy protection robustness but also virtually 100% playability on the huge range of DVD players out there. Further, it is an upgradable software solution. New and innovative development continues to ensure that it provides the most reliable, efficient and easy to use anti-rip copy protection solution available.
Low quality media should be avoided.
Patronus can also be used with CSS, Content Scramble System to protect movies on DVD from being illegally duplicated. Patronus has been licensed by Sonic Solutions for integration with Qflix which is an industry-backed standard and comprehensive licensing and certification program that allows movies to be legally purchased by downloading through the Internet and burned onto DVD or directly duplicated by in-store retail systems, providing movie studios and distributors with an efficient new channel for the electronic distribution of digital video entertainment to consumers.
Simply, Qflix is a system that enables the recording of premium content to DVD-recordable discs with the same level of copy protection found on today's instore DVDs. Being both secure and compatible with the billion DVD players deployed worldwide, Qflix opens up a whole new way to digitally deploy movies with the same quality and level of interactivity as standard DVD discs, but with virtually no inventory management costs.
You can find the StorDigital SafeTower DVD Duplicator with Patronus copy protection on the CD-writer.com shop or by via the CD-writer.com outlet on EBay.
Call us on 020 8293 0777 (in normal working hours) for more information about how we can help protect your DVD Video content from unauthorised duplication.