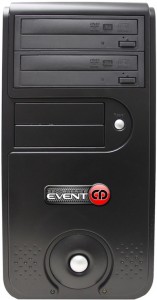 MF Digital Launches EventCD Live Audio Event Recorder/Duplicator
Record Live audio from any event to CD, create multiple CD copies in one simple intuitive, expandable and cost effective system.
Farmingdale, NY — February 27, 2012 — MF Digital, a long time leader in Live Event Recording announces its newest live event digital recorder and CD / DVD duplicator in-one – the 5200 Series 'EventCD'.
The new EventCD combination recorder/duplicator system allows easy recording from virtually any mixer or other analog or digital source right to the "EventCD" hard disk and then almost instantaneous output to two and up to forty-two disc copies at once via its modular expansion approach. This powerful and easy to use system is ideally suited for the recording of church and school events, seminars, lectures, concerts, legal depositions, or any application where multiple audio recordings are instantly needed.
"Unlike the traditional CD recorders we see today, with the EventCD you can add and remove content and even include pre-recorded content like a run-out track. You can set and change your tracks markers, span longer recording across multiple discs and do so at any point and in any number. ", according to John McGrath, US Sales manager, MF Digital. Mr. McGrath went on to say, "… and unlike virtually all CD recorders, the EventCD is also a very capable, and expandable, CD and DVD copier."
The EventCD can record over 650 hours of uncompressed CD quality sound directly to the system's hard drive. The user simply records the event or performance to the hard disk, sets the desired Start IDs or track points, optionally edits or sets one or more span points for longer recordings exceeding the capacity of a single CD, and then submits the job. Within three minutes of the event's conclusion, the user will have multiple copies of the event. It's a simple to use powerful system that can be expanded to suit any need.
Expand EventCD with the 5604 4 drive Expansion modules over Ethernet giving the ability to burn on up to 42 drives simultaneously – whether set remotely around a concert facility or campus, or located in a production facility. Add an AutoPrinter for the perfect live event production unit.
EventCD is available now priced at $749.
About MF Digital
MF Digital, headquartered in Farmingdale, NY with a UK based European office, is a division of Formats Unlimited and has been developing optical disc solutions for over a decade. The company's extensive line of high quality manual and auto-loading duplicators, publishers, Blu-Ray products, disc ripping solutions, and USB/SD duplicators are used throughout the A/V, graphic arts and data/enterprise networking industries.