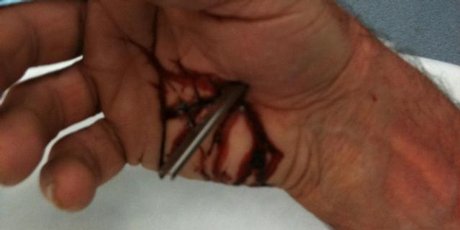 Reports are coming in about a viscous attack by a slimline optical DVD burner on a British man. The attack is known to have taken place in New Zealand.
According to the New Zealand Herald newspaper, 52 year old William Warner suffered a horrendous hand injury after the DVD drive of his Toshiba laptop fired out a piece of metal which impaled his palm.
According to the newspaper report, Warner works as a driver in the Whangaparaoa area near Auckland. The Briton said that he had placed a disc on the DVD tray of his laptop, and was in the process of closing the drawer when a sharp piece of metal shot out and pierced his right palm.
Metal Spike
"I looked at my palm and I was wondering, God what just happened?" he is quoted as saying. "Then the pain … became excruciating and I had to be rushed to hospital."
Warner was apparently taken to North Shore Hospital, where the 11cm metal spike was removed. His treatment included having a bone fused as well as stitches.
It seems that the metal spoke was part of the track holder of the DVD tray.
The accident reportedly happened a year ago, and Warner has been seeking compensation from Toshiba for the injury, after discovering from his doctors that the after effects may be permanent.
Warner states that he is struggling to complete simple chores.
"I've been told I can no longer fish or play golf, and even writing for me now is a struggle," Warner reportedly said.
"I can't believe that trying to play a DVD on the laptop would land me with injuries that ended the use of my right hand as I know it," he said.
An emergency call to was made to Arnold Schwarzenegger (who is known to have a experience in the area), who simply said "Hasta la vista, baby" then hung up. What is the significance of Mr Schwarzeneggers words? Should we expect to see more attacks of this nature on humans? Is this the rise of the machines?
Stay tuned.