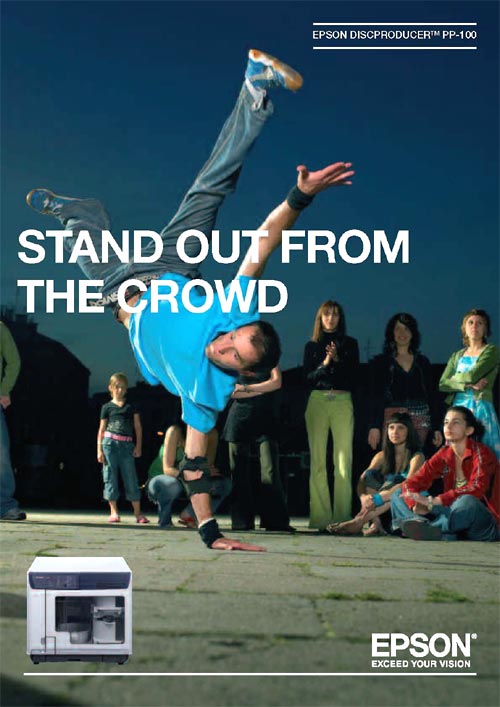 Here is some information from their brochure
You know the situation. You just want to burn and print a handful of CDs/DVDs – and suddenly, half your day's gone. It doesn't have to be like this. The fully automatic Epson Discproducer™ PP100 can do it for you at the touch of a button, leaving you free to focus on other tasks. Whether you need just one disc, or one hundred, you'll find it delivers reliable data burning and photorealistic printing – quickly, efficiently and very costeffectively
Ideal for a wide range of applications
Duplication service
The Epson Discproducer™ PP100 is your perfect tool for maximising margins in the rapidly growing media production market. Whether you want to use it for an individual disc or a batch job, its high reliability, superb print quality and costeffectiveness make it the ideal system for service providers.
Clinics and practices
Supply a better service to your patients through the use of digital data in areas such as radiology, cardiology, ultrasound and CT imaging. The Epson Discproducer™ PP100 burns data and images quickly, and helps cut costs when switching from analogue Xray or CT film to digital imaging.
Corporations
Reduce your labour overheads by removing the need to manually burn and label discs in marketing, sales, product development and customer service departments. Automating the procedure using the Epson Discproducer™ PP100 saves considerable time and money, whilst ensuring that your confidential data stays inhouse.
Advertising and photo agencies
The CD/DVD medium plays a dual role. Not only is it an efficient way of delivering digital content to your customers – you can use creative labelling as a powerful promotional tool. The Epson Discproducer™ PP100 uses 6colour Micro Piezo™ inkjet printing to give you the opportunity to showcase your design skills through highimpact labelling.
The Public Sector
By automating the burning/printing process, the Epson Discproducer™ PP100 offers your organisation a valuable way of reducing costs, streamlining processes and enhancing quality and efficiency.
We are the only manufacturer in the world to design and develop both precision robotics and advanced printing solutions. This means we have the expertise in these areas to set new standards in professional disc publishing. The Epson Discproducer™ PP100 delivers the highest printing quality in its class – plus the excellence and reliability for which we are known.
There are three versions in the Epson Discproducer™ PP100 range:
PP100 (USB)
PP100N (Network)
PP100NS (Network and Security). Please ask your reseller for more information.
 Schools and universities
If you work in education, you'll know that multimedia content has become increasingly important – and that the need for fast and costeffective CD/DVD duplication is growing. With the ability to duplicate up to 30 CDs per hour and more than 10,000 per year, the Epson Discproducer™ PP100 is ideally suited to meet the demands of the educational sector.
Software and IT companies
When you regularly need to produce customerspecific batches of CD/DVDs, the Epson Discproducer™ PP100 is an essential piece of kit. Whatever you're creating – software updates, service packs, multimedia product presentations or data archiving – the Epson Discproducer™ PP100 will speed up production and help reduce your labour and process costs.
Prepress services
The Epson Discproducer™ PP100 is invaluable for quickly and conveniently burning work onto visual storage media for your clients. You can even exhibit your company's creative standards using the printed disc graphic, thanks to the outstanding photoquality performance of the 6colour Micro Piezo™ inkjet printer.
Multiple data types
Working with the Epson Discproducer™ PP100 is as easy as working with an ordinary office printer. Whatever volume of data you need to burn – and whatever type, from music and photos to videos and multimedia presentations – you'll find perfect results at your fingertips.
Epson DiscProducer PP-100 Brochure
Epson DiscProducer PP-100N Network Brochure
Epson DiscProducer PP-100S Secure
Epson DiscProducer PP-100AP AutoDisc Printer
You can find the range of Epson Disc Producers available to buy at CD-writer.com.
EPSON – EXPERTS IN PRINTING AND ROBOTICS