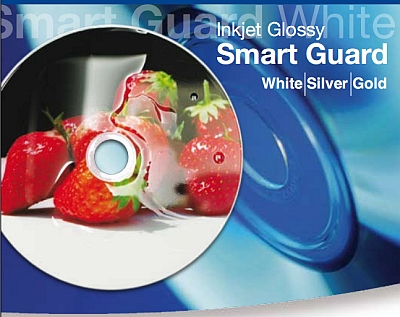 In today market it's really important to create and produce a products that stands out from the crowd, but; this isn't just concerning the content you create. The presentation of your product will make the difference between whether someone picks it up, or leaves it on the shelf, or perceives it as a premium product or a value product.
When producing CD and DVD product it can be quite easy to create the right lasting impression thanks to glossy water resistant discs like WaterShield and SmartGuard. These discs work with all the inkjet disc printers available from CD-writer.com and allow your artwork to be presented in the best possible way.
Standard inkjet printable discs can be prone to bleeding and smudging, specifically when they come into contact with atmospheric moisture or water (think rain and tears – both known to accompany many a tune). But thanks to the unique coating on water resistance discs you can produce discs at home that look better than than those that can be produced in a replication facility.
There are several variations on the market but we decided to test 2 of the most popular.
JVC (Taiyo Yuden) WaterShield
The best known of the water resistant inkjet discs, water shield comes from the most highly regarded disc manufacturer in the industry. The watershield discs have a very consistent and uniform print surface. With default setup we encountered no ink pooling or bleeding. Additionally it should be noted that ink usage with watershield discs is lower due to the less permeable nature of the print surface. Full face printed discs look stunning and water resistance is just as expected. The main negative point with watershield is the difficulty in achieving a true black finish in large areas. Blacks printed on WaterShield appear grey, brown or purple (but only once your attention is drawn to it) Black is a very relative colour and open to interpretation by the individual. It should be noted that glossy watershield discs are the most expensive DVD-R discs we sell, so make sure you factor the high price into your margins.
Falcon Media Smart Guard
Traditionally at CD-writer.com we are Taiyo Yuden people – we like to stick with what we know and we know that Taiyo Yuden (JVC) are great performing discs. But, we were intrigued to see how Falcon Media's Smart Guard glossy water resistance discs would compare. The look and feel of the Smart Guard is of a quality disc that you expect to print well, and it doesn't disappoint. We tested it on both Primera and MicroBoards disc printers and found it to perform exceptionally. Solid colour fills were flat and text was sharp. The gloss finish was fantastic and most interestingly the performance of the black ink beat the Taiyo Yuden discs hands down. On the Smart Guard disc the black certainly does look blacker (please see out test images below). Both discs performed similarly in our 'Under the tap test'. Furthermore it should be noted that Smart Guard CD-R and Smart Guard DVD-R cost significantly less that the equivalent discs from JVC (Taiyo Yuden).
The bottom line : Anyone looking for water resistant and glossy prints should consider Falcon SmartGuard. You will save some money and your blacks will print better.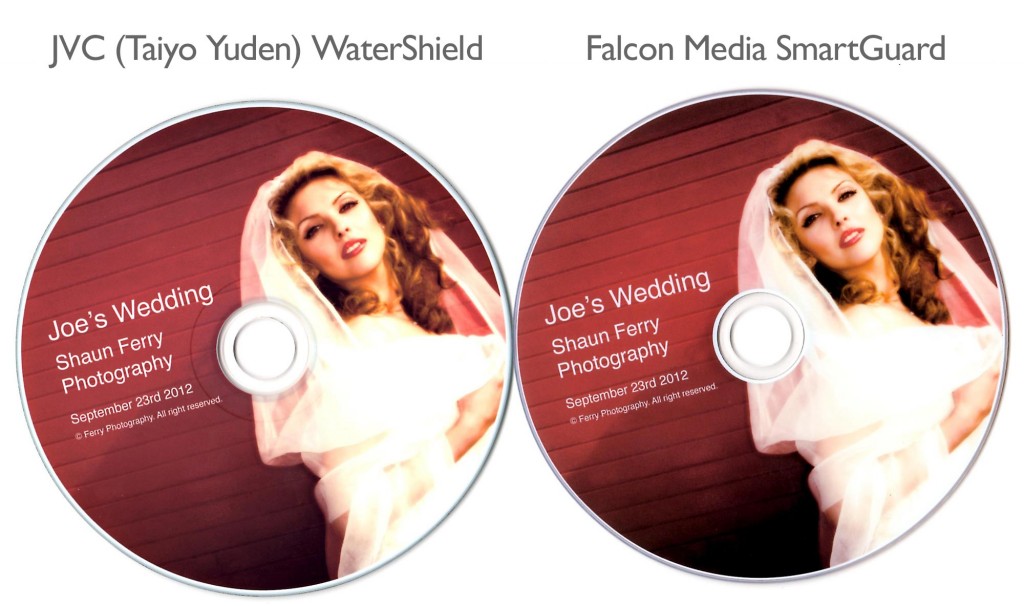 See this PDF which will explain more about the SmartGuard Water Resistant Media
Here's a link to our glossy / water resistant CD-R
Here's a link to our glossy / water resistant DVD-R
To find out more about the options for CD and DVD media water resistant, inkjet printable or otherwise, please call 020 8293 0777.