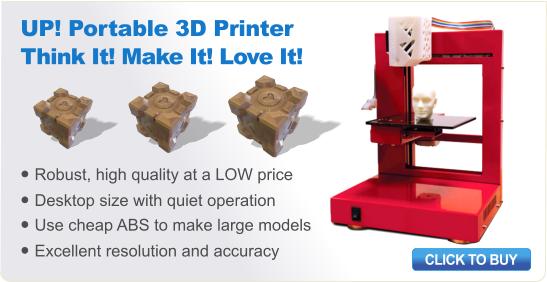 The new 3D printer, the PRNT3D UPJet from StorDigital is based on the best selling UP! 3D Printer. The UPJet features an improved design offering; a more powerfull filament feeder, improved material base plate (meaning less warping), standard USB (rather than mini), modified perfboard mounting, perf board cleaning method and more. In addition the UPJet requires no assembly and works straight out of the box.
The PRNT3D UPJet offers a number of advancements over the original unit the UPJet is designed to work straight out of the box with no assembly required and supported by software for both PC and MAC. All you need to do is calibrate the printhead height and you are ready to start printing.
The UPJet can produce 3D parts in sizes up to 5 inches cubed, with out put accurate to within .2mm. Using industrial quality 1.75mm ABS you objects will be solid and durable. You can either design your own objects or download from a range of websites. Try Google Sketch-Up.
The PRNT3D UPJet 3D Printer includes all the software you need to ensure you create the best prints from your STL files allowing you to scale and position to ensure the best quality and economy from each print . The options in the software give you absolute control of the build density and support materials, ensuring your print is as fine or as fast as you require.
Here is some information about the standard UP! printer
3D printing is a form of additive manufacturing technology where a three dimensional object is created by successive layers of material. 3D printers are generally faster, more affordable and easier to use than other additive manufacturing technologies.
The UP! 3D Printer uses a nozzle to deposit molten polymer onto a support structure, layer by layer, similar with FDM.
The toughness of ABS model equals to 30% of injection parts, which can be served as end-use parts directly. And its best accuracy of 0.2 mm enables models produced by the UP 3D printer can be used as assembled parts. A good example is some parts in the UP 3D printer are produced by the printer itself.
Because of its small size and lightness, the UP! 3D printer can be packed in a common suitcase. Everyone is able to carry it easily. Also, after loading the digital model, the UP! 3D printer can work independently without computer.
Automatic support generation. No training or previous expertise required. Anyone can operate it as easily as a common paper printer. Just load the UP! software on your computer and the printer start printing. With automated material loading device, the model build process requires nothing from you.
Neither does it require special power and other devices required. The UP! 3D printer is quiet, safe, odor free and requires no cleanup after each build. The small footprint leaves more spare space for your creativity.
Users may also enjoy the magical additive process of how a digital model be transferred to a solid one. Also, if any design problems, they can be found and corrected instantly, so as to cut weeks off your design cycle.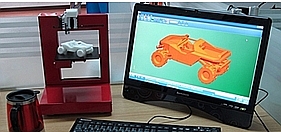 The UP! software simplifies all steps in 3D printing process, helping you print 3D model conveniently. Just integrate all steps of 3D print. Load STL and press "Print", you will get a solid model after a few hours. Its the simplest 3d print software. Everyone can use it in several minutes since it's extremely user-friendly. Mouse operation and big icon toolbar control all functions.
Also, it's an error-tolerant slicing Algorithm, most STL errors do not need repair.
With the UP! Printer, you can build many different items, some of them are just for fun, others are really helpful.
Not only can you create toys or art using it, but it's also possible to realise helpful items for education, medicine or architecture.
With 3D printing, students can get more interested in learning and understanding topics like geometrics because they can print them themselves and don't just see it on the paper, but in reality.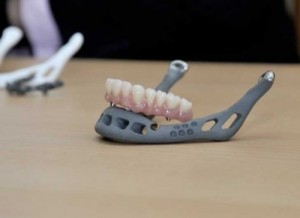 Physichians can rebuild bones and organs in order to get familiar with the patient's situation and release their nervous feeling when the actual operation starts.
Architects are more likely to work independently. With their creative thoughts, they can produce lots of great works. Amateur architects and artists will also enjoy their own creation.
You're interested in buying an UP! Printer now? No problem, you can easily buy it online here.
If you're not sure yet, you might be interested in reports about unpacking, assembling and testing the UP! Printer.
Obviously, you also need material to print with. Best for this is ABS, which you can buy on ebay on PRNT3D.com or on the CD-writer.com shop. Or on amazon here.