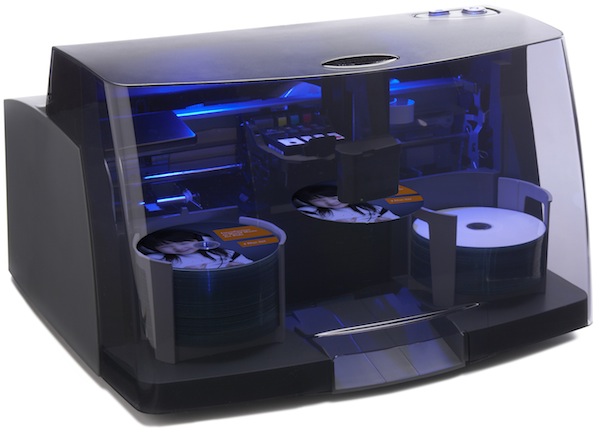 The Primera 4100 Auto Disc printer for MAC and PC is the latest disc printer available from market leading, Primera. It offers 100 disc capacity and a remarkable 6 second per disc print speed for full face, full colour discs. Whilst the 6 second disc print is not to the highest resolution it is sufficiently good for most purposes. When you need to produce a great many discs in the shortest possible time your throughput is largely determined by the speed at which you can print your discs.
The 4100 Printer from Primera does have it's limitations. WHilst it has a fast print speed it should not be confused with more expensive industrial type CD printers. However its 4 colour ink system does help to ensure the best possible prints at the lowest possible cost (albeit based on Primera ink prices).
Customers should also note that the 4100 AutoPrinter requires the changing of print heads after printing upto 8000-10000 discs. But at a price under £100 this is a small price to pay for the convenience of speed and quality, since the new print heads will ensure the printer continues to print discs to the highest possible standard.
Use JVC Taiyou Yuden watershield discs to get full colour, high resolution, glossy water resistant discs.
Find out more about the 4100 Printer by calling 020 8293 0777 or by clicking here.