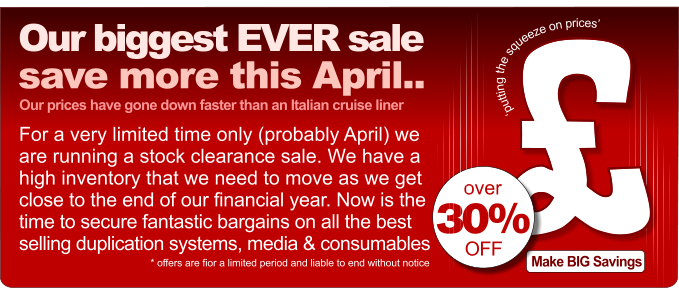 As we move swiftly towards another year end it's time once again to shift as much stock as possible, and with the market still being a little sluggish, the fastest way to achieve this goal is to reduce our prices to the lowest level possible.
Here are a few examples.
StorDigital DJ50 AutoLoader and Epson Disc Printers, Previously £999 now reduced to £660.
MF Digital Print Station with Prism Plus thermal printer Previously £7000 now reduced to £4999.
8 Target SD Card Duplicator with Daisy Chain Option Previously £1140 now reduce to £499
We've also got a long list of B-Grade items that are either fctory refurbished or openbox products. These include tower duplicators of all sizes and some Print Factory printers from from MicroBoards, call us to find out more on 020 8293 0777. Or visit our April Offers pages.