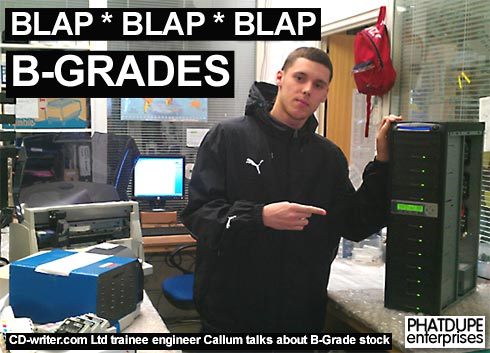 Callum Walker – CD-writer.com trainee engineer reflects on the nature of being B-Grade
Callum here, trainee engineer (A-grade) at CD-Writer.com. I just wanted to tell you all about some great deals we have on some of our B-Grade duplication systems. What's important to realise is that at CD-writer.com B-Grade doesn't mean Low-Grade – in fact our B-Grade items are probably better than some of the products you will find available as new from other retailers. Fact!
How it all began ……
One day our MD approached me and said "Callum, have you noticed the amount of new and unused components we have lying in these boxes? I'm sure we could make some sort of use from these." "Yeah you're right" I said, " and we also have a lot of cases with a bit of damage like scratches on the side or dents which we can't sell as A-Grade because we only give our customers the best!" I replied. And Vwa LA! The B-grade project was born! You see guys our B-Grade duplicators are a simple and inexpensive solution for customers looking for the best quality products without paying the full price. Does it really matter if the case has a small scratch or slight dent on the side? At the end of the day all that matters is the quality of the components and the chance to buy a product at a fair price. Right?
What's in stock October 2011 …..
At the time of writing this post;
We have 2 x 1-7 Pro Burners (professional duplication tower), one having a hard drive installed. Both are in great condition, work perfectly and are cosmetically clean. These are returned open box products. They are neither used nor are they ex demo.
B-Grade Proburner DVD and CD Duplicator Discounted
We also have a Premium 1-11 DVD and CD duplicator which is working great but has a few scuffs on the side.
11 Target B-Grade DVD and CD duplicator
Also available for purchase is a special build 1-6 DVD and CD duplicator with Liteon drives, it works fine but the casing is a bit dodgy; it doesn't fit on properly :S.
LiteON Drive enabled CD DVD duplicator with discount
Finally we have the StorDigital Premium 1-10 DVD CD duplicator. This was actually donated to us by one of our regular customers, the conversation went a bit like this;
"Yo Callum, I got this duplicator here innit. It don't work properly but I don't want it no more, my misus says it takes up too much room in my crib so it's yours mate." I said "Yeah safe Dave, I'm sure I can make use of it." So I put it on my bench, ran our hygiene routine, tested it for faults and errors, changed the necessary parts and now it's working like new! (It also comes with Pioneer drives which is a bonus for the lucky buyer ;).
Refurbed Pioneer Duplicator here
So dear customer when you buy a B-Grade duplicator from CD-Writer.com, be assured that you are not buying a low grade and poor quality product, you are buying a duplicator with a bit of cosmetic wear and tear that offers all the performance of a brand new unit.
So its simple innit at CD-Writer.com when we offer you an A, B or C its always High Grade, C, EZ AZ 1,2,3.
Please direct all enquiries for B-Grade units to myself, Callum on 020 8293 0777.