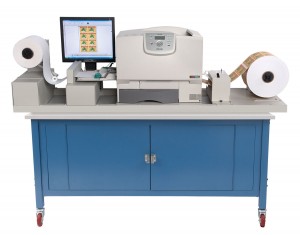 Printing labels is a necessity for many print houses. In the past, these businesses didn't have many choices when it came to finding affordable printers that could produce quality work at an efficient speed. Inkjet printers were simply too slow and painstaking to use, while larger label printers were far too expensive and time consuming. Recognizing a need, Primera has stepped in and created the CX1200 Digital Label Press. If you operate a print house and are looking for a way to effectively and efficiently print your own labels, our CX1200 may be just the solution you need.
Before the CX1200 was introduced, many print houses had few options when it came to printing labels. Often these companies were forced to either outsource their labels or manually print them on inkjet printers. Outsourcing proved to be expensive while inkjet printing was highly inefficient. Companies such as Dacar Digital in Belgium found that they couldn't keep up with demand as a result of their inability to find a sufficient printer. The time it was taking to fulfill label orders on their inkjet was a big strain on their productivity and was preventing them from expanding into other areas of production.
Time isn't the only problem for businesses without the CX1200, as printing labels without our machine can be costly and many times uneconomical. The labor-intensive process means that employees won't be available to service customers or work on other orders during the printing time. Money is also lost in terms of waste. With other printers it is difficult for a business that only wants a few hundred labels as opposed to several thousands. These businesses are often forced to pay extra for labels they don't need. Prior to the CX1200, any company that tried to rectify these problems was forced to pay hundreds of thousands of dollars for in-house printers. This just wasn't a cost-effective solution for many businesses.
Australia's Wrapco Company notes that before their purchase of the CX-1200, they were limited in the services they were able to advertise and offer to other clients. If a client approached them with a small run job, they often had to turn down the business. Without the right equipment they couldn't do the job themselves in-house, and outsourcing just wasn't economically feasible.
The Primera CX1200 Digital Label Press opens up a world of opportunity for businesses. Those who own the CX1200 have found that they are able to expand and offer services that they were unable to before. The CX1200 is a cost-effective solution, because it allows print houses to cater to clients who need both small and large jobs. The CX1200's system makes it easy to print any number of labels on demand – from a few hundred to several thousand. Furthermore, the Primera's user-friendly software displays the exact price per label. This is a huge asset for businesses who want to monitor their operation costs.
Along with being cost-effective, the CX1200 is also fast, printing at an amazing 16.25 ft. per minute with the ability to print 1250 ft. at a time. The speed would mean nothing however, if the quality was not top-notch. This label printer produces high-quality labels with a 1200 x 1200 dpi print resolution and a 4800 color quality. The excellent quality results in colors that are bright and print that is sharp. In addition, the CX1200 does all this with inks and toners which can be easily monitored through the printer's software. The software allows the user to check exact levels of the ink, making replacements efficient and economical. This means that your business can use the CX1200 to produce beautiful, quality labels at an affordable price.
Those in the business world know that time is money. Business owners who utilize larger, more expensive label machines find that most of these machines are complex and require constant overseeing. The CX1200 Digital Label Press is an excellent option for many print houses because it is fast and easy to use. The CX1200 uses software that makes it easy to program a job. Once the system is set, business personnel are free to work on other projects. This allows for ultimate productivity.
Print houses who don't utilize the CX1200 are often missing out on the ability to cater to an entire clientele. Many small industries and organizations produce their own products and would like professional labeling, but they often don't need large-scale orders or have a big budget to accommodate high prices. This is where the CX1200 shines. Designed with such customers in mind, the CX1200 enables a print house to reach out to these customers and offer the ability to fulfill these custom orders with ease. It makes good business sense for everyone involved.
A further benefit to utilizing the CX1200 is the versatility the machine offers. Business owners are able to use it for so many more options. Australia's Wrapco purchased the machine so they could produce their gift seals on-site. From there they found that they could use the machine to print all sorts of projects. The CX1200 is compatible with a number of substrates including polyesters and ordinary paper in a variety of finishes. Its versatility is another great benefit and means that the business owner can offer even a greater number of printing services to their clients.
Primera is a leader in its industry, servicing thousands of companies in over 150 countries. For over 33 years, we have been a leader is manufacturing specialty printing equipment. Along with the CX1200 Digital Label Press, Primera is known for the Bravo-Series CD/DVD/BD duplicators and printers and the LX-Series label printers.
Primera is based in the United States and also has offices in Europe and Asia Pacific. This international presence means that users around the world can be assured of Primera's quality and support, and those who buy a Primera CX1200 Digital Label Press will be joining the ranks of the thousands of companies who have purchased over a million printers from Primera.