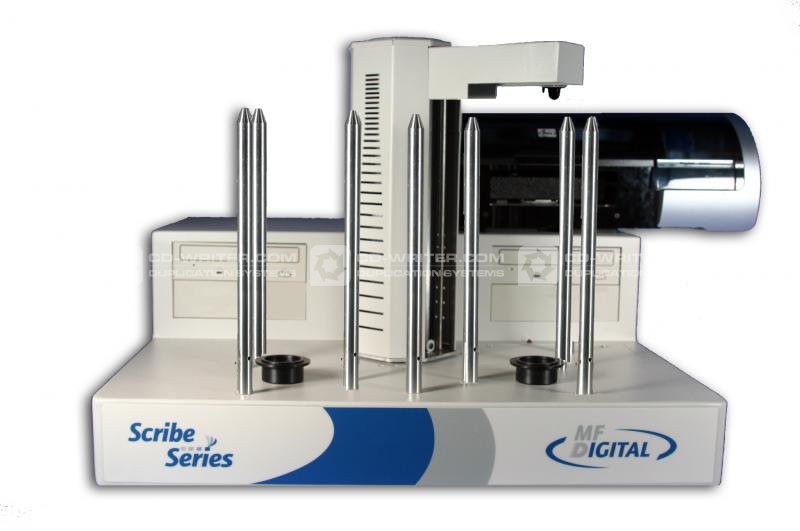 When purchasing a system for producing CDs and DVDs it can be very easy to make the wrong purchase decision. For example individuals who are not sufficiently informed might choose to buy an entry level automated disc publisher to produce 1000 discs per day. They think that because it is an automatic device with 100 disc capacity that it will be the fastest way to produce 100 discs. Of course this is not true. The fastest way to quickly and reliably produce large volumes of disc product is via a tower copier and and automated printer.
But what if you consistently have a requirement to produce moderate quantities of discs? Is there a disc publisher or disc producer that crosses the boundaries of the two product areas?  The success of the Primera brand for out of the box disc publishing demonstrates that for many people a single drive automated copy and print solution is the perfect solution, however it does have limitations.
If you require a DVD and CD automated disc publishing platform built to industry leading standards that is capable of easily copying and printing 1000's of discs per week. Using the latest and fastest asynchronous burning technology and with the lowest possible cost per print, then look no further than the MF Digital Scribe PC. MF Digital machines can evolve with your business. When you buy the standard entry level unit you receive a high quality HP inkjet printer. Later as your business grows you can upgrade this to full colour thermal printing, via the addition of a TEAC P55.
At CD-writer.com Ltd we have used MF Digital machines internally for over 8 years. And we still operate the same machines today as we purchased 8 years ago. Each device with regular maintenance has produced 100's of 1000's of discs.
At CD-writer.com we know duplication technology better than any other company pertaining to be in the business. We buy it, we sell it, we use it and we repair it. If it exists we have tested it and if we don't sell it then there is probably a good reason. 
And there are more good reasons to buy MF Digital. They have just announced new lower prices on there 300 disc capacity, twin drive, inkjet duplicator with built in PC, the Scribe PC. See the Scribe PC 2 Drive Duplicator with PicoJet here.
If you would like more information about MF Digital products and the suitability of their solutions to your operations then please call us to arrange a demo on 020 8293 1010.